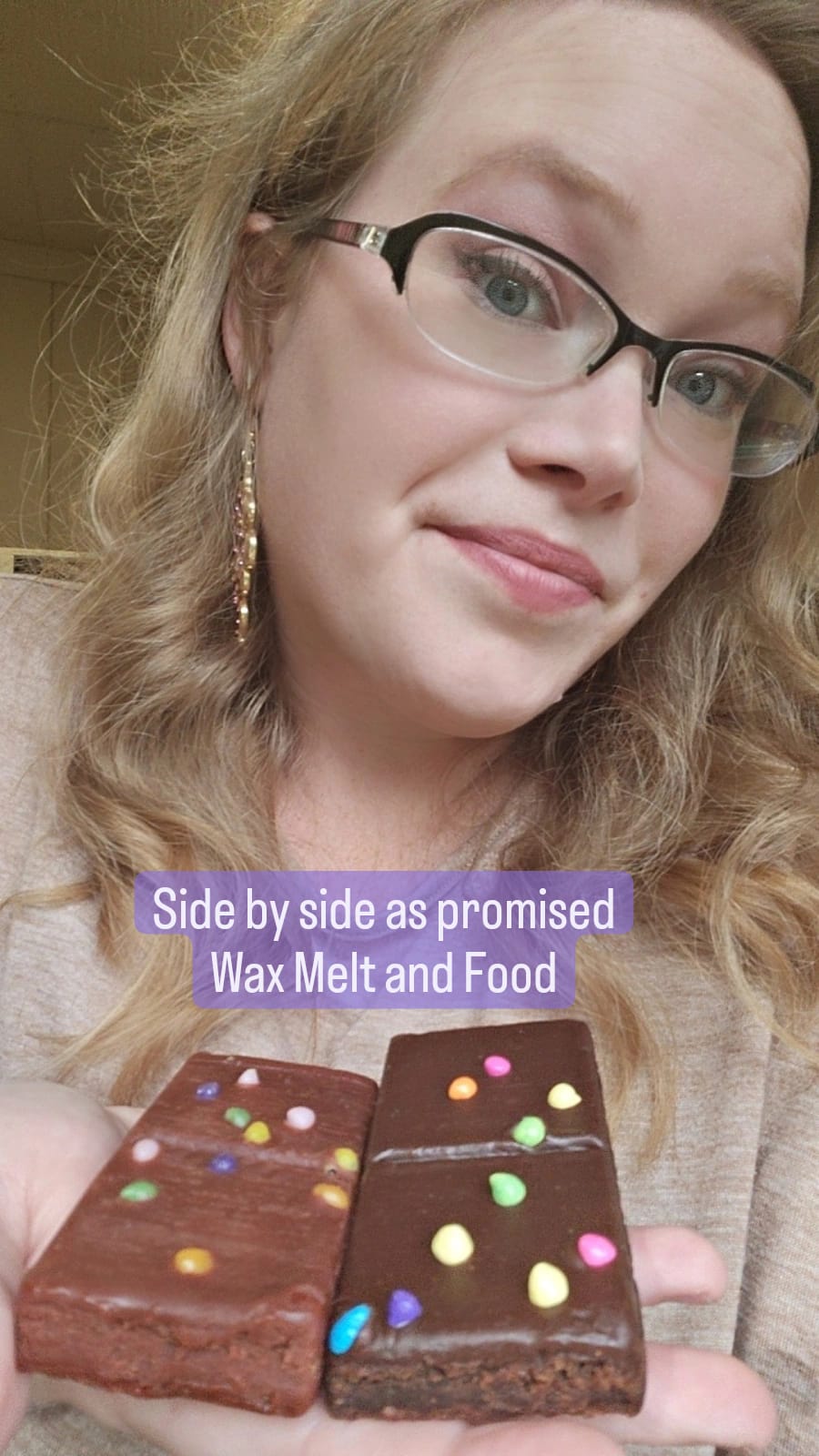 Welcome to Burns Well Co.!
You can read my BTS interview with Cat Domingo of Go Solo HERE for more about me and my business.

I am Nia Burns, the creator and chandler behind Burns Well, LLC.
I am a mother of two strong, independent girls, married for over 11 years to my best friend, and a proud U.S. Navy veteran.

My obsession with candle making began 16 years ago, watching my step-mother at the time create candles for income, and while ADHD misplaced that obsession for quite some time, I have finally stepped out of my comfort zone and created a place to sell my creations!
Burns Well was created in October 2021 from my last name, Burns, and the main product I created, candles. After significant R&D and testing, I finally opened up my shop in February 2022.
All of my products are hand-crafted in small batches in Cartersville, VA, although I began crafting in Tennessee and began my business in North Alabama - Huntsville specifically.

My mission is to utilize this business to give back to the community through beautiful creations that are safe to use in your home and around your furry friends. My ultimate goal for the future is to be able to assist with youth sports/camp costs for families in need, assist those without adequate shelter in temperature extremes with necesities, and eventually grow a volunteer group to assist with elderly, veteran, and youth needs within the area.

I do offer shipping within the Continental U.S. and local delivery within 35 miles of Cartersville, VA, you can also find my products in-person at many pop-up shows, boutiques, gift shops, and vendor markets throughout the RVA and surrounding areas.

Retail Locations:

Howdylus
14001 Butlers Rd, Amelia Court House, VA 23002

Hoo's Pickin'
4218 Old Hundred Rd, Chester, VA 23831

Southern & Wild
136 N Main St, Farmville, VA 23901

Shop Look East
2114 Boulevard suite A, Colonial Heights, VA 23834

Teresa's Beauty Bar
1502 Boulevard suite B, Colonial Heights, VA 23834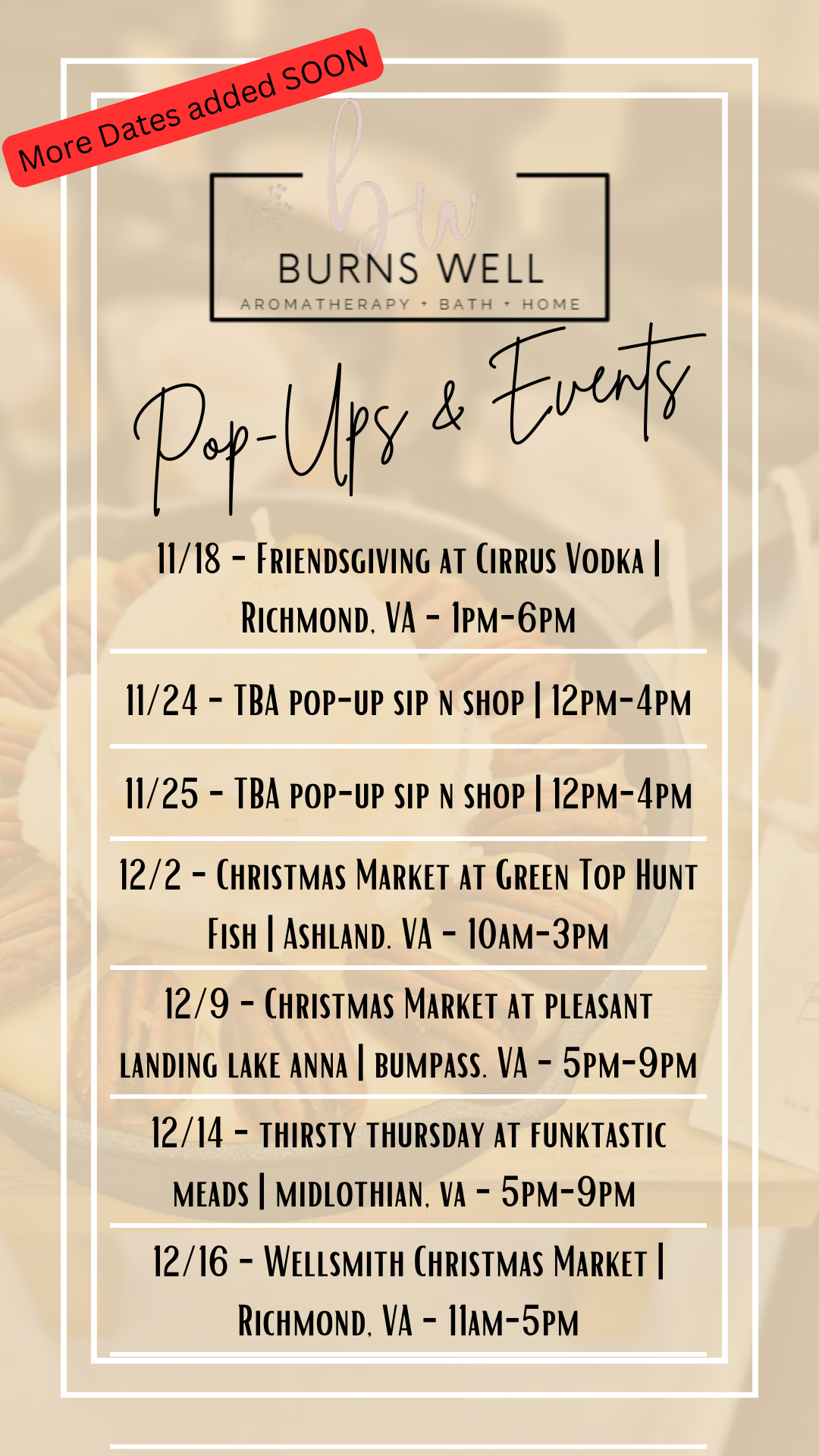 POP-UP EVENTS ALL OVER CENTRAL VA - HERE'S WHERE TO GET YOUR NEXT CANDLE!
Upcoming Events, Announcement Dates - all listed here!

Want more discounts? Find us at a local event and let us take your picture with your purchase! We'll post it on our Instagram & Facebook accounts and you'll receive 10% off your in-person order that day!

Do you know what's in your products?
➼WAX: Our unique soy wax blend is a clean-burning, renewable, and ethically-sourced resource made from American-grown soybeans and coconut. The byproducts of soy wax production (bean husks) are then used in animal feed.
➼FRAGRANCES: Our fragrances are skin-safe, phthalate-free blends that are never tested on animals. Every fragrance is Clean Scent Certified™ meaning it is free from carcinogens, toxins, and other hazardous chemicals* commonly found in fragrance oils. We will always adhere to RIFM (Research Institute for Fragrance Materials) and IFRA (International Fragrance Association) standards.
➼WICKS: Our wicks are flat braided cotton with paper threads for increased rigidity. Our wicks do not contain lead or zinc. Any non-whipped candle can be custom ordered as a wooden wicked candle - just put it in your order's notes section!
➼JARS: Our glass jars are American-made blown glass and are topped with an aluminum lid. Our tins are made in Brooklyn, NY and shipped to us here in VA. BOTH are recyclable.
➼WAX MELTS: Our wax melt packaging is energy-efficient, sustainable, and both phthalate and BPA-free. This PET material is recyclable.
➼LINEN SPRAYS: Our Linen & Room Sprays are biodegradable and environmentally safe. Our formula meets C.A.R.B. requirements & is VOC compliant.
➼DIFFUSERS: Our Reed Diffusers are VOC compliant and do not contain any chemicals listed on California Proposition 65.
➼SHIPPING MATERIALS: Every order is packed with recycled foam, biodegradable/plant-based packing peanuts, recycled boxes, and bubble wrap for added security.
➼All Glass, Tin, and Wood containers purchased from Burns Well, LLC for candles, reed diffusers, and specialty melts can be returned after use for a 10% discount on your next purchase! No need to clean!

*Please understand we use the word chemicals only accompanied by hazardous or toxic. There are many chemicals that are healthy - like water!
We only want to show our efforts in keeping our products safe and of the highest quality ingredients - so you know you can trust us and our products in your home.
Learn More